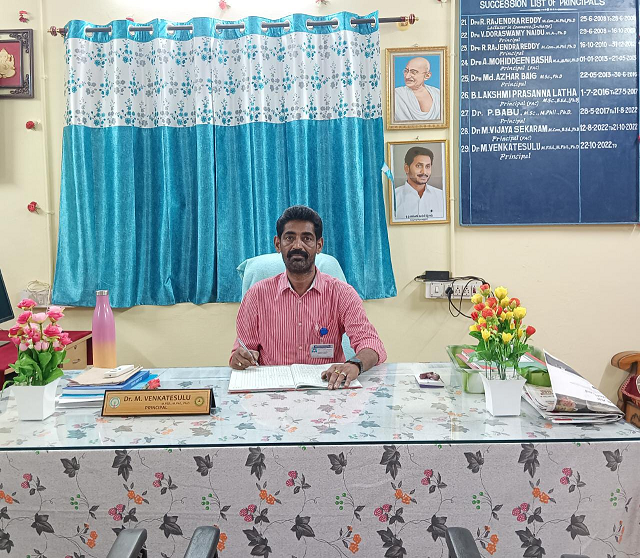 Dr. M. Venkatesulu
PRINCIPAL
M.PEd.,M.Phil.,Ph.D.
About The College
Palamaner is in the western part of Chittoor district with two states as its boundaries; viz Tamilnadu and Karnataka. The two capital cities; Chennai and Bangalore are nearer to the town. Hence the Degree College located here has a pivotal role in nurturing the students to meet with requirement of the job market. Palamaner bears a title, "Poor men's Ooty". The aim and objective of the college is to witness the "vertical progress" of the marginalised sections of the students. To meet with the higher educational needs of the students the Degree College was established in the year 1983 as a result of the sustained and patient efforts of the stake holders of the town. Late Sri Varra Chenna Reddy garu, a magnanimous philanthropist donated 1.5 lakhs towards corpus fund and thus it was after his name the college obtained the title SVCR Government Degree College. Though the college had its beginning with one group i.e. B.A. later the tree had many branches like B.Com. and B.Sc. The consistent efforts of the stake holders made it possible to start PG courses too in Commerce and English departments. The college is affiliated to Sri Venkateswara University, Tirupati. In the journey of thirty five years of the college have many mile stones of success. The noteworthy of them is acquiring B Grade during NAAC assessment and the college is getting ready for the third cycle.
With the help of RUSA funds (2.0 Crores) the college added more infrastructural facilities like new rooms and renovated rooms too. Under RUSA funds 20 KW solar panels are installed. One virtual class room and three digital class rooms are developed. Six biometric machines are purchased and the same are used for recording attendance of the students and staff of the college. The college possess AP fibre net connection with 10 mbps and 100 mbps Ports. The philanthropy of the founder's family has no bounds. Thus, four more rooms and a room for Dr B.R. Ambedkar Open University too have been constructed with their help.
A qualified and dedicated team of faculty are rendering their services to the college in carving the niches of the students. At present 16 regular, 07 contract and 09 guest faculty are imparting value based education to all the students. To train the students in the skills as per the job market, Jawahar Knowledge Centre and Andhra Pradesh State Skill Development Corporation(APSSDC) are rendering their services through online and Offline coaching centres. One NCC unit and two NSS units are actively training the students to indulge themselves in social service. The college has a sports pavilion, mini stadium and a moderate gym.